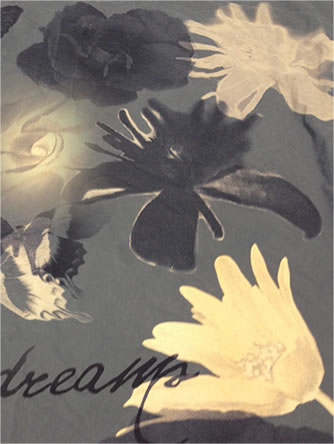 CORROSION PRINTING ON COTTONS
Corrosion printing is only possible on garments dyed with corrodible dyes.
This technique is used to print light, bright colours on dark backgrounds without altering the softness of the original fabric.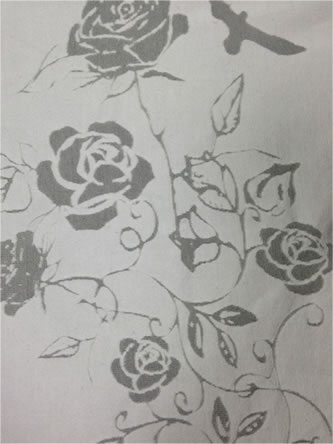 DEVORE' or BURNOUT
This technique is used almost exclusively on mixed fabrics and a fabric with no less than 25% polyester yarn gives best results.
Special products eat away the cotton fibres (which disappear completely at the first wash) leaving the underlying polyester structure visible with eye-catching colour and transparent effects that vary according to the fabric.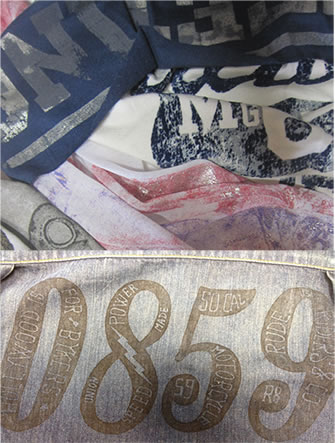 DISTRESSED EFFECT
"Faded/scratched" effect obtained by using special dye pastes. Graphic software is used to process and preview the effect.
VINTAGE EFFECT
An exacting and painstaking process gives the garments a vintage and faded effect.
Since this procedure is done by hand, every garment will be a one-off and therefore unique.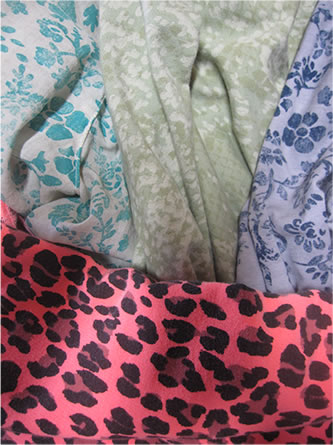 SUBLIMATION PRINTING WITH RESIST LAYER
Technique that allows the garment to be dyed after having been printed with special water-based resins that either absorb the dye, thereby emphasising the print, or resist it, thereby making the print lighter than the colour of the dyed garment.
DYE SUBLIMATION PRINTING WITH RESIST LAYER
Technique which makes use of plastisol dyes or special water-based resins before garment dyeing with medium or medium-light colour dyes. With this type of printing the previously printed colours remain almost the same after dyeing.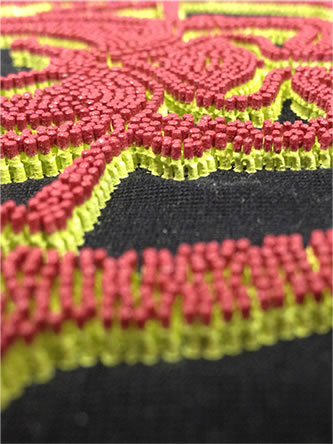 PUFF EFFECT
Print with rubberised, fluffy, raised effect yet velvety to the touch.
EMBOSSED EFFECT
With this technique we can raise an image or lettering or part of it through the overlapping of dedicated inks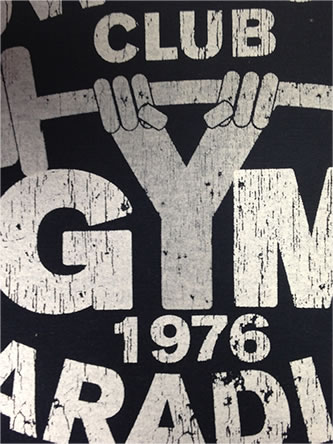 CRACKING EFFECT
Printing which gives the image a vintage effect by using special inks which "crack".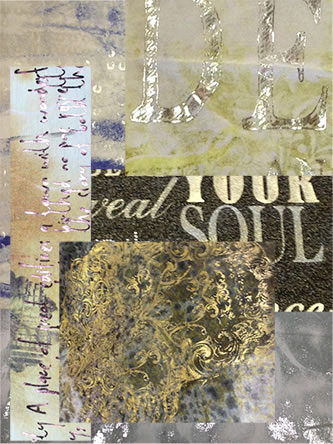 FOIL PRINTING
Printing technique with which foil is transferred onto previously prepared fabric.
It gives a very striking, shiny effect.
GLOSSY/OPAQUE EFFECT
The image can be made opaque or glossy, according to the type of material used, by pressing the print.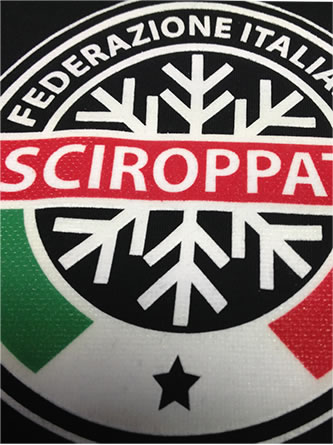 LENS EFFECT
This is a technique that highlights the print or part of it with an "under-glass" effect.
Hot glossed, it can be treated to obtain textural effects.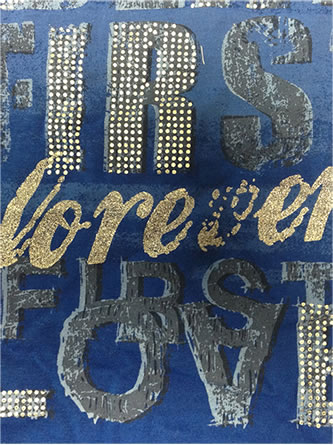 GLITTER PRINTING
Type of ink with shiny, bright effect (like Lurex), it enhances the visibility and elegance of the image.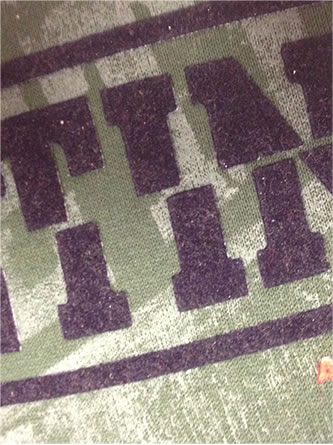 FLOCK PRINTING
A flock print is obtained by pressing the actual flock onto fabric that has been previously prepared with a special adhesive to receive it.
The design appears slightly raised and has a soft, plush feel.
This technique can be used to reproduce motifs, logos, lettering or designs in 1 colour and without shading.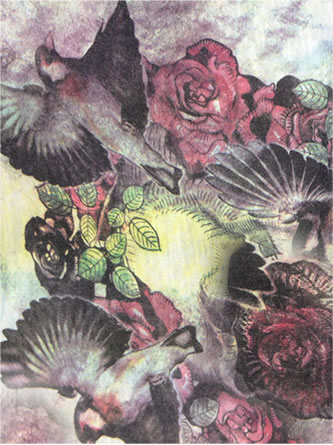 HALFTONE PRINTING
"Half-tone" print used to reproduce particular shadings of the images.
FOUR-COLOUR/MULTI-COLOUR PRINTING
Used mainly to reproduce photos/illustrations/drawings with graduated colours.
The result is similar to the original drawing. It is advisable to use light backgrounds and high-resolution photos for best results.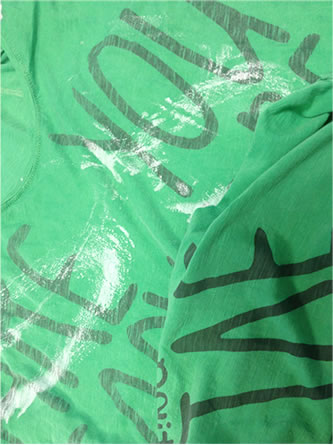 SEE-THROUGH EFFECT
The
double face
effect is obtained through a print on the inside of the garment, which is also visible from the outside.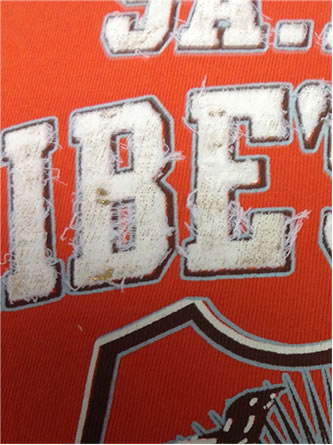 FABRIC APPLICATION
With this technique fabric is applied over the print or over part of it to give an unusual, vintage effect.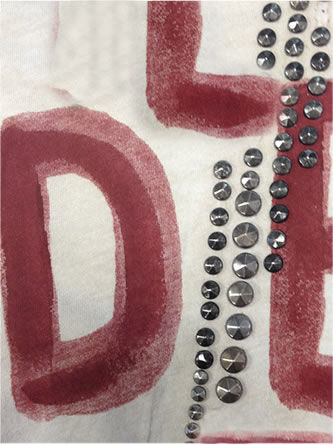 CUSTOMISATION
Washes, pre-washes, fading, stencil or freehand spray designs, sponging, brushing, pad printing...
Creativity and experience merge to create new working techniques that push the envelope....
DECO' s.r.l. Via Galvani,34 - 31027 Spresiano (TV) Italy - p.i.01879880266
ph.+39 0422 722195 - fax +39 0422 889571 - e.mail: info@decofashionprints.it